Tnooz: The influence of ownership on metasearch
PACE research featured in Tnooz this week highlights the power of ownership behind the leading metasearch players, with implications for hotel marketing and distribution strategy.
PACE Dimensions assessed the top advertisers by metasearch site as part of a wider piece of research into digital media and online retail for travel and hotel bookings. This was based on 10,000 metasearch results for the share of featured deals attributed to advertisers for each of the leading metasearch comparison tools: Google, Trivago, TripAdvisor, Kayak and Skyscanner.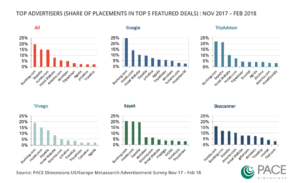 Tim Davis' analysis of the findings reveals important insights for hotel companies.
Read the full article in Tnooz: Metasearch power plays: What hoteliers need to know about staying competitive 
Sign up to our mailing list